Jewels of the Virgin Isles is a feature series profiling Virgin Islanders in the diaspora who are excelling in their respective fields and/or positively representing the USVI abroad.
Amaraé Blyden-Richards will be the first to say that she is living the life of her dreams though the story is still unfolding. As the chief event strategist and designer of Plan Perfectly, Blyden-Richards is living her entrepreneurial dream and making dreams come true for brides around the world.
Born on St. Croix to Karen Blyden and former Sen. Usie Richards, Blyden-Richards was raised on St. Thomas, and said she was exposed to the world of event planning and marketing while still in high school.
During her junior and senior years, she worked for a local catering company managing high-end events on St. Thomas and Water Island. This experience opened her eyes to a grander level of living and working, thus opening the door to what would become a passion for luxury events and wedding planning.
Never satisfied with mediocrity, Blyden-Richards excelled during her years at Joseph Sibilly Elementary School, All Saints Cathedral School and Charlotte Amalie High School. Upon graduation in 2003, she attended the University of the Virgin Islands, capitalizing on numerous opportunities to study abroad in Florida, Spain and Denmark, all as an ambassador for the U.S. Virgin Islands.
Since she loved being adventurous, Blyden-Richards eagerly accepted the challenge to participate in educational programs such as the National Student Exchange in Miami and the Congressional Black Caucus Foundation internship in Washington, D.C., in order to expand her awareness of other cultures. The foundation established during her childhood through her involvement in the Rising Stars Youth Steel Orchestra, Future Business Leaders of America and the Moravian Youth for Christ (through the New Herrnhut Moravian Church.
As a result, Blyden-Richards developed a yearning during her childhood to do and experience more in her life. Beyond these extra-curricular activities, she also traveled extensively for cultural enrichment to various places including France, Italy, the Caribbean, the continental U.S. and Hawaii.
Blyden-Richards said she also benefitted from dance, swimming and sailing lessons, all of which taught her that life is for the taking and that there are no limitations to what one can achieve.
As a multicultural wedding specialist, Blyden-Richards helps couples achieve wedding day success by telling their story in a unique way. "Throughout life, I have always been intrigued by culture, romance and individuality," she says. "Weddings are not merely a celebration of love, but they are a joining of two families, cultures, and traditions."
Driven by the mantra that doing what you love translates to not working a day in your life, Blyden-Richards said she developed an interest in running her own business early on, but she admittedly took a safer route than most who jump headfirst into entrepreneurship.
"There are only a few other entrepreneurs in my family, but I am inspired by the example set by my grandparents, Rosita Barry Blyden and Titus Blyden," she said. They acquired properties and worked hard while raising 10 children so that they could be landlords and not renters.
This legacy taught her that success was not based on the amount of money one has or the education attained, but rather how one uses the skills and resources they have been given to make a better life for the next generation.
Always ready with a brilliant smile and upbeat personality, Blyden-Richards said she also attributes her accomplishments to the adage, "nothing beats a trial but a failure."
"I live by the principle that my first idea might not work but if I accept that things happen for a reason, then my failure is simply redirecting me to my triumph! I also trust God and His timing in all that I do," she reveals.
Not just passionate about her event work, Blyden-Richards loves the Virgin Islands and is saddened by the observation that her home community seems to place a higher value on "imported" rather than locally cultivated talent. "It is truly disheartening and I want to show young entrepreneurs that they are valuable and have a great deal to offer," she reflects.
"It is my hope that individuals in power will recognize this and support local businesses before seeking contractors from off-island." In light of this Blyden-Richards said she desires to mentor business owners who are struggling to run their establishments and help them to see things from a different perspective.
She is clearly making her mark both as a business owner and an academic professional and, with a wisdom beyond her years, is sure to exceed all of her goals in the decades to come.
A Nugget for V.I. Youth: "You have what it takes! We are from a little island, but we are exposed to a great deal, which places us at a unique advantage. There is nothing holding you back from achieving your goals. Get a mentor, learn your craft, hone your skills and take the plunge."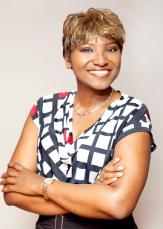 Little Known Fact(s): "I would eat stewed cherries for dessert every day if I could!"
__

Loán Sewer is a marketing and tourism consultant and proud Virgin Islander who resides in Washington, D.C. She is also a founding member of the USVI Alliance Inc., an organization focused on reconnecting the Virgin Islands diaspora with the local community and host of the USVI Economic Development Summit on the U.S. mainland. Follow her on Twitter @LoTalksTourism